We will have some exciting things planned for the coming year – stay tuned !
.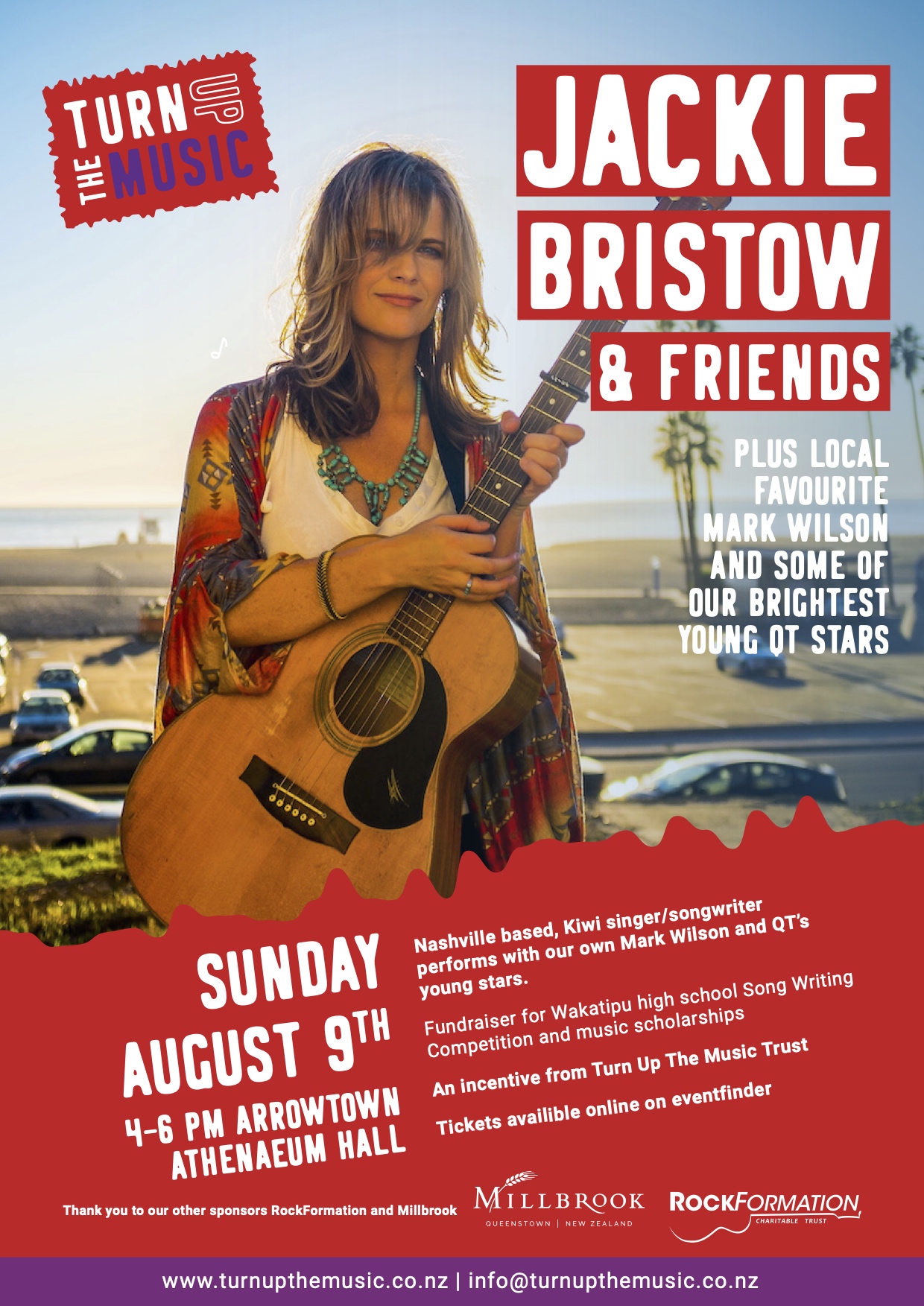 Turn Up The Music Trust presents 'Jackie Bristow and friends' at the Arrowtown Athenaeum Hall
Sunday 9th August at 4pm to 6pm 
$25 adults & $5 for under 18's
We feel very privileged to have Jackie headlining this concert and being an inspiration to our own aspiring young QT stars.
She has opened for stars like Chris Isaak, Boz Skaggs, Bonnie Raitt, Foreigner, Tommy Emmanuel and The Steve Miller Band among others.
New Zealand born, Nashville based singer-songwriter Jackie Bristow, began singing and writing songs at an early age in Gore and first performed with her sister in their school church choir. The 'Bristow Sisters' toured the South Island of New Zealand making a name for themselves. Jackie's talent and songwriting skills saw her establish herself in the United States where she has been living and performing since 2005.
Jackie has continued writing and performing in North America and around the world with several albums under her name. She was on tour in New Zealand (happily for us) with her Blue Moon Rising tour when Lockdown prevented her return to Nashville.
Jackie's synergy with her on stage "Friends" for this concert is not lost on the Wakatipu locals. Young QT singers and songwriters will perform at this concert showcasing their talents with Jackie who is reminded of her Southland roots.
On stage, our local favourite Mark Wilson will also perform. The afternoon line-up will include Wakatipu High School Choir led by Margaret O'Hanlon and other young stars and musicians from WHS.
Thank you to Jackie Bristow who is giving her time and musical expertise to support our talented local youth.
This concert is a Fundraiser for Turn Up The Music Youth Song Writing Competition to be held at WHS in October.
Adults $25.00 and Under 18's $5.00
---

Sunday 28th March 2021 – Arrowtown Athenaeum Hall – three concerts 1pm, 2pm and 3pm.
Join Rozzie & her Orchestra in most magical, highly interactive, fun,  and educational concert your preschool and junior school tamariki will ever get to be a part of. 
Rozzie and the Orchestra, is written, conducted and choreographed  by the talented Rozzie Manowitz and will inspire and springboard kids into engaging and connecting into the fantastical world of music. Brought to you by the Turn Up The Music Trust.
Tickets on sale from November 2020 through eventfinda.co.nz
---
August

2020

Mon
Tue
Wed
Thu
Fri
Sat
Sun
The 17 and 18 of May 2019 marked the start of Turn Up the Music's external engagement programme.
On 17 May 2019, a string quartet featuring Benjamin Baker, Justine Cormack, Gillian Ansell and Alexander Hersh performed compositions by Franz Schubert and Gareth Farr at Arrowtown, Shotover, and Queenstown Primary schools. Garth Farr was in attendance too, and spoke about his Mondo Rondo composition.
The following night, the string quartet performed at the launch of the Trust, at Hakitekura, Queenstown.  The set also included a composition by Felix Mendelssohn, followed by a Tchaikovsky encore.
Benjamin Baker took the opportunity to announce the launch of Chamber Music at the World's Edge.  The aim is to bring chamber music events to the people of Central Otago on a regular and planned basis.
One of the highlights of the launch was a performance by precocious saxophonist Eliott Allemand, a graduate of the Lakes Community Music School.  Eliott showcased the potential of Turn Up the Music's programme and its music school.