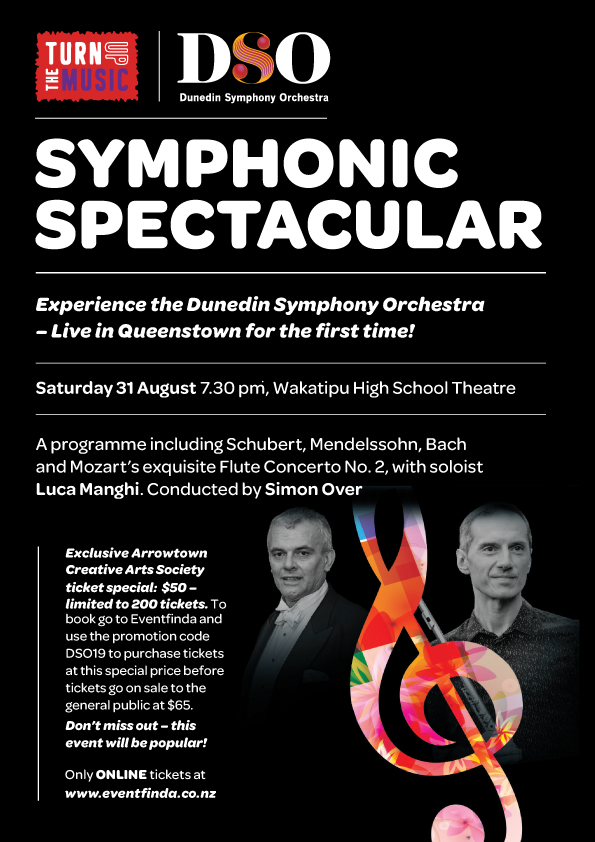 On 31 August the rare sound of a symphony orchestra will fill the Wakatipu High School's Theatre. For the first time the Dunedin Symphony Orchestra (DSO) will be performing in Queenstown and will perform music from favourite composers such as Bach, Mozart, and Schubert.In association with the Turn Up The Music Trust, the DSO will present a full programme of very varied orchestral music, taking audience members on a journey in time from 1745 through to the 20th century. From Bach's charming but grand Orchestral Suite (1745), Mozart's exquisite and often jaunty Flute Concerto No. 2 (1778) – with the orchestra's Principal Flute Luca Manghi as soloist, Schubert's classic masterpiece his Symphony No. 5 (1816), Mendelssohn's evocation of the stormy Scottish Hebrides in his 'Fingal's Cave' (1830), through to Christchurch-composer John Ritchie's 'The Snow Goose' (1982), this is a programme that will enthral and entertain. The orchestra is thrilled that its London-based Principal Guest Conductor Simon Over is able to be the conductor for this very special occasion.
This is a doubly-important concert: not only is it the first time the DSO has presented an orchestral concert in Queenstown, it is also the first full symphonic concert presented as part the recently-established Queenstown-based Turn Up The Music Trust's orchestral projects. The orchestra is delighted to have been asked to be a part of the Trust's plan to help strengthen music resources in the Queenstown and Lakes District so as to make a difference to the lives of the region's children and its community.
This very special concert is bound to be popular so be sure not to miss out!